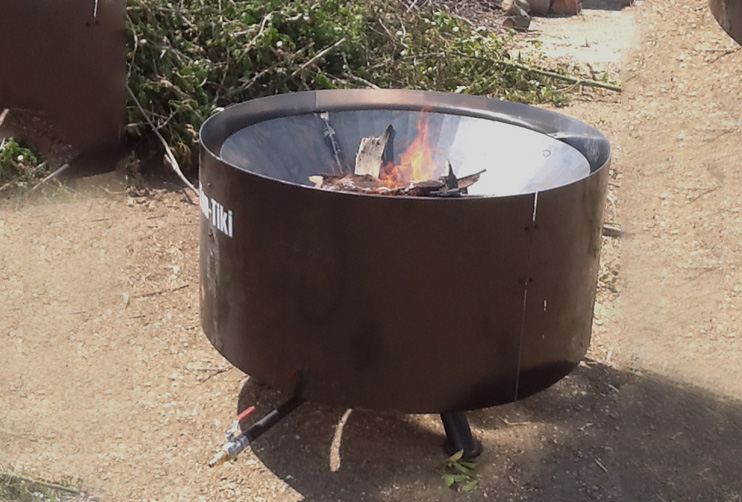 Hello All my name is Richard Copley.
My Biochar Journey is all about my interaction with the growing interest of the carbon sequestering of tree matter, used in a sustainable management program as a soil amender.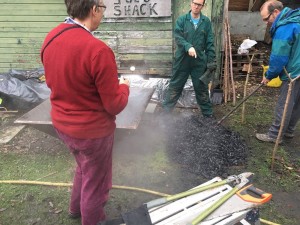 Meeting up with members of the Biochar foundation, looking at new kiln technology and discussing the uses of char!
http://www.fastcoexist.com/3052240/restoring-soil-quality-is-one-of-the-best-things-we-can-do-about-climate-change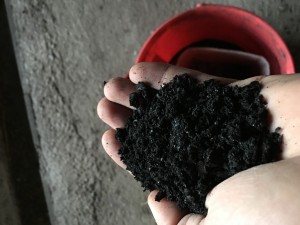 This is Biochar that has been ground up to be added as an additive to our cattles diet. You may be wondering why we do this?!
Research is showing us the benefits that Biochar can have in the cattles diet, both for the animal, the environment and the crop in which the manure is spread.
First of all the Alkalinity balances out the high acidic   Feeds bringing the pH back to the desired Neutral levels in which the Microbes of the Rumen can work more efficiently.
Also the large surface area of Biochar acts as a filter, storage of nutrients and a home for microbes to be based from.
All these lead to an improvement in health, production of the cattle (presently looking into our own Quantitative results) and reductions in Methane production (RA Leng 2012).
Once the Biochar has passed through the cattles gut then it really comes into its own in the manure or composted manure, helping enhance the holding capabilities of the compost, keeping your nitrogen and phosphorus very accessible to the desired crop, vegetable, plant (Stephen Joseph 2015).
Not only does it make such vital elements accessible, it then sequesters the carbon matter in the ground for a long period, some carbon sequestered in similar ways has lasted up to 1000 years.
I will carry on blogging about our and the industries future developments…if you don't already then follow us @BiocharMy Twiiter for more upto date logs on the matter and work we are involved in related to our Charing activities!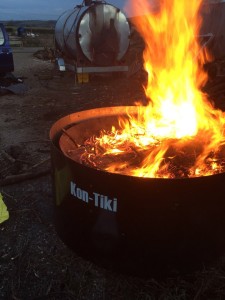 We have just improved our Kon-Tiki range with two new custom made Kilns done by the talented fairley forge. We do rental of the kilns, manned and un-manned, for prices email us on manorfarmtreeservices@mail.com and we can help with any queries. The kilns can help add value to any woodland residues or tree surgery works…which we can include in a price. Any brash that would not have any value, can be used as a soil amender in the form of Biochar and sequester the decomposable wood matter in the form of carbon locked up in the soil. A great ecologically friendly way of dealing with tree or plant waist a like.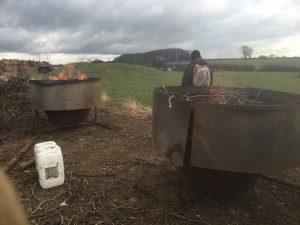 28/03/16
Presently Preparing the layout of organic fertilisers being used alongside our Biochar. Biochar has shown to work best if the char has been amended with NPK (Nitrogen, phosphorus and potassium).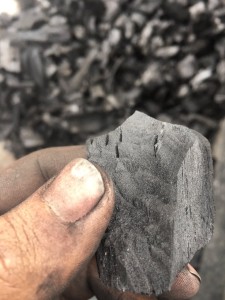 Activating your char with an organic fertiliser, not only gives the plant roots organic structure, but allows access to nutrients vital for growth. Due to Biochars absorption capabilities if put in the ground without a nutritional aid; if the soil is already lacking in nutrients, any nutrients there could be absorbed by the char, making it more difficult for the plant at first to access. This is why adding a fertiliser to the char can only help benefit its growth.
The fertiliser doesn't have to be organic and can be used with a synthetic product. However in true permaculture ways, using waist organic products apart of the plants life cycle is truly apart of an all inclusive system.
Look forward to more posts 😄
11/04/16
I have just enrolled in a 10 week intense course on "Biochar Training for Environmental Sustainability and Economic Development" to further develop my knowledge and understanding of our wonderful carbon friend. The course is run by the American International Biochar Initiative. Which I have been a member for the last year. The IBI are completely up to date with new technology, best practises and research involved in the Biochar industry. This course will then help keep me up to speed with recent work, to give you the customer the best opportunities in use and cultivation of your char.
25/04/16
Little experiment of my own looking at the benefits of adding Biochar to soil.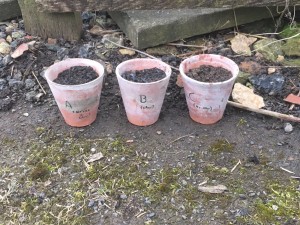 Plant Pot A: Biochar and Urine
Plant Pot B: Biochar
Plant Pot C: Soil
Soil type: Clay Loam
Seed type: Spring Onion
The Biochar we make is made up of different feedstocks at varied temperatures and sizes. We do this to get a variety of carbon, nutrition and porous content.
In this test we're looking at an organic fertiliser used alongside Biochar, compared to just Biochar and no Biochar at all. As said earlier in my blog.
Quenching the char with a fertiliser, doesn't just offer the structure needed for the roots offered by the Biochar. It allows the roots access to the nutrients needed for growth, before they get chance to leach away from the plant.
Some studies have also found that adding Biochar directly to the plant, can actually cause a deficit in nutrition if there is little nutrition about. Due to its porous, absorbing capability any nutrition would get absorbed before the plant has any chance to use it, giving it less strength to carry onto the Nutrition absorbed by the Biochar. Quenching the Biochar with Nitrogen and phosphorus then gives the roots in depleted soils a final goal of supplement, without taking the little amounts that are there, just to keep going.
We have gone for an organic fertiliser as the more natural we can make our processes the better, especially if it doesn't interrupt production 😄
I look forward to future results
27/04/16
They're some really interesting papers being released on biochar and one of the leading scientists doing this isProfessor Johannes Lehmann of Cornell University. He has estimated that if Biochar was spread over just 10 per cent of global cropland, the effect would be to sequester 29 billion tonnes of CO² equivalent – or the same amount of greenhouse gases we emit, worldwide, every year.
On that note, Garderners and Farmers a like get using Biochar the carbon negative substance that doesn't just benefit you environment but also enhances your soils #Biochar
17/04/16
Unfortunately I have not been able to update much of my blogs at the moment as my time in the evenings is mostly being taken up with the part time course I'm on at the moment: Biochar Training for Environmental Sustainability and Economic Development. I had mentioned this earlier on in my Blog. I'm presently three modules in having just finished physiochemistry of Biochar and how important this is to the chars final outcome as a filter, water/nutrient retainer and as a carbon sink! More to come 😄
19/05/16
Unfortunately I have not been able to update my blog for the last month as my website has been down 😞 Though all is well now and my blogging can proceed 😀
Regarding my Biochar Journey, it has started on some new and interesting paths!
First of all I'm working with a Local woodland owner, looking at the benefits of adding Biochar to infected saplings (especially those carrying Chalara Fraxinea) To see wether Biochar can help in combat the pathogens and enhance the saplings root structure, to help in the fight against the fungal infection.
This is a very exciting opportunity for me to apply my knowledge that I have been learning on my IBI course of which I am half way through 😄 And still going strong. There is so much to learn about Biochars and their effects; Getting the opportunity to see its effects out in the field, while learning about my choice of inputs, is really giving me a thirst to learn more and help understand Biochar for other people to use.
look forward to showing future pics 👍
Pics of a customers newly fledgling pumpkins, grown in horse manure compost. They have begun with a flying start!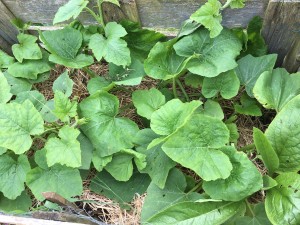 using Biochar in combination with compost is a great way to get the most from your Biochar.
Depending on the temperature produced at and the original feedstock, Biochar has fair amounts of phosphorous and potassium. However unless it is a high Nitrogen feedstock before Charing e.g. Chicken manure, then it won't have high nitrogen contents after… unlike compost.
Also the plant roots won't immediately find the phosphorous and pottasium inside the char, which the composts nutrients are more readily available for the plant to utilise at first.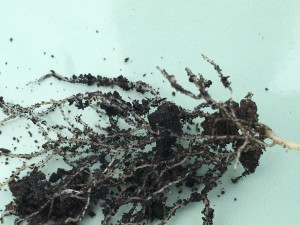 This is an image of some roots that have utilised the composts organic matter and have now attached themselves to the clumps of char, that have been found by the roots after a long period in the ground.
A bit of food for thort… it has been found that overtime the cation exchange improves with the ageing of char!