At Manor Farm Tree Services (MTFS) we make all our restaurant grade BBQ charcoal in a location right next to our 20 Acres of woodland. We craft our charcoal using only the best hardwoods sourced from Manor Farm Wood and the nearby-surrounding area.
Making BBQ charcoal is a fundamental part of what we do at MFTS as it allows us to utilise parts of the tree that would otherwise go to waste.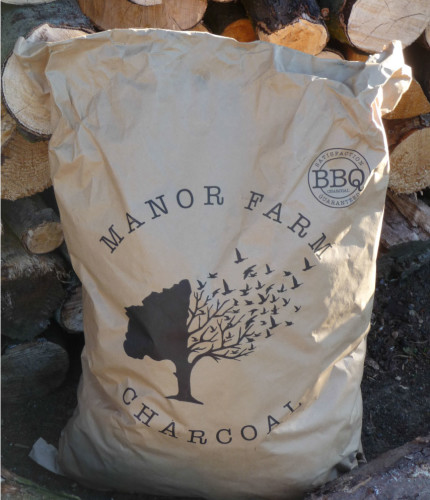 What it is that makes our charcoal special:
We create a product free of additives that enhances the natural flavours of foods cooked on the Grill.
A better burn that lasts longer.
Easy lighting charcoal. Even easier with the use of a 'chimney'; we use a Weber, but there are also others brands out there that do a good job.
All sourced locally; we can trace 99% of our wood to its original source. We care where our wood comes from.
Coming from a farming background has given us a deep appreciation of high quality meat and we fully appreciate that it is vital you do the meat justice with the flame in which it is cooked on.
We retail our mixed hardwood charcoal at £6.50 per bag. You can collect from the address below. We can also deliver, just ask for prices. For commercial bulk loads and discounting, please call for quotes.
Feel free to contact us for more information regarding our BBQ Charcoal, individual species used and use of our portable BBQing device. We can produce single species hardwood charcoal on request.
If you are interested in seeing the process we are happy to show small groups how the Charcoal is made on farm just contact us by phone or email:
Phone number: 07917390987
E Mail:manorfarmtreeservices@mail.com
Manor Farm
Allington Road
Sedgebrook, Nr Grantham Lincs
NG32 2EJ